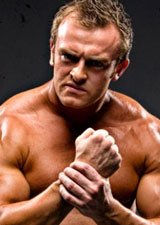 MAGNUS
Height: 6'3"
Weight: 240 pounds
From: King's Lynn, England
Finishing Move: The Tormentum

Magnus is known to many as the TNA World Heavyweight Champion. To others he is the formidable Gladiator, Oblivion. But before he was a household name he was one of the original UPW Renegades heading up a group that he aptly called "British Elite".

Answering the open challenge set by Bannilux Bulldog & Kid Krazy at UPW Coup d'état, Magnus would get his title shot against the Bulldog for the UPW World Heavyweight Championship. The consummate british wrestler & gladiator would prove to be no match for the powerful brute force of the Bulldog. Magnus first contest in the underground would see him leave weary and without gold.